---
How To Pick A Profile In Digital Marketing That Is Best For You?
By Tech-Act
---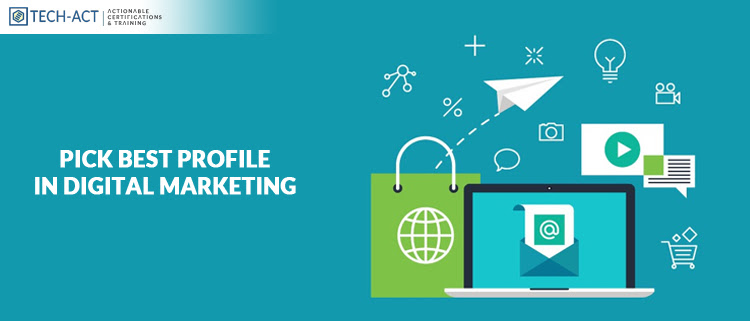 When we think of job selection process most of us end up being stressed out. Simply because there are tons of factors one needs to consider before taking up any job. For instance, am I the right fit for it? Do I possess the skill set? Will I get the expected pay? And many more… But investing a lot of time in research sometimes makes one more confused. Hence, our purpose of writing this article is to give you clear and very precise information about the various job roles available in digital marketing which would definitely help you in making a right move.
Let's take a quick look on the various Digital Marketing roles:
Product Marketing Jobs

Content Marketing Jobs

Social Media Marketing Jobs

Design Jobs

SEO Jobs

Web Development Jobs

Marketing Analytics

Ecommerce Jobs

Business Development Jobs
---
Here we will provide you an insight about each job role which will help you to choose the best suited.
---
1. Product Marketing Jobs:
They are responsible for establishing the market position of the newly launched product. They focus their efforts not only on maintaining the existing customer but also on targeting the potential customers. They ensure that their customers are aware of the product features and also how to use them. The various roles in product marketing are mentioned below:
Product Marketing Specialist:

They conduct research about their competitors like what is their sales number & market position. They possess strong writing skills which they use for brand awareness by creating blog post, webinars, whitepapers, and case studies. They bring in 2+yrs. of experience.

Product Marketing Manager:

They engage in lead development of communication tools. They team up to promote new features & functionality of the product to both that is existing & potential customers. They host client meetings and forums where they can spread the word about their new products and can gather feedbacks. They usually have 5+ yrs. of experience.

Director of Product Marketing:

They have exceptional verbal and written communication; hence they handle various projects and stakeholders. They look after the performance metrics and communicate with key executive stakeholders within the organization. They are internal and external experts when it comes to product knowledge and implementation. They have a good amount of experience ranging from 7-10+ yrs.
2. Content Marketing Jobs:
Content Marketing is one of the creative ways to convey & distribute the valuable information about your product to the target audience which is carried out in several forms like writing blog posts, newsletters, emails, white papers, landing pages, product descriptions. Below mentioned are the various roles in content marketing.
Content Marketing Specialist:

They conceptualize, pitch and do research post which they write up search-friendly blog content that add value to the viewers. They possess general understanding of SEO tactics like site structure, image optimization, link building & keyword research. The experience they bring in is 2+yrs.

Content Marketing Manager: They have excellent understanding of SEO best practices. They manage a team of in-house writers or freelancers. They generate blog topics by using keyword research. They are responsible for delivering the content which will support inbound marketing efforts & demand generation. They team up with designers, product marketers & sales to plan the production of videos, case studies, website copies & print marketing collaterals. They have quite a good experience of 7+yrs.

3. Social Media Marketing Jobs:
Social Media Marketing jobs are the most popular currently. By using the platforms like Facebook, Instagram, Twitter, Linkedin, Pinterest etc. brands not only make themselves visible but also expand their reach. This is one of the best ways for marketers to communicate with the prospects at a faster & larger scale. Check out below the diverse roles.
Social Media Coordinator/Specialist:

They are responsible for building and maintaining an editorial calendar for the relevant social channels. They engage with the target audience and respond to their comments and post. They collaborate with the content team for strategic planning and blog promotion. Experience bracket is from 1-3+yrs.

Social Media Manager:

With an experience of 5+yrs, they develop extensive social strategies which eventually increase the traffic for the digital content. Exhaustive roadmaps of social campaigns are created by social media manager. They execute campaigns. They manage new industry trends and technologies.
5. Design Jobs:
Design contains different marketing disciplines that are graphic design, visual design, user interface etc.
Visual Designer:

They collaborate with cross functional teams to understand business objectives, issues and accordingly provide creative ways to overcome them.

Creative Director:

They are the one who are responsible for leading the designing strategy, execution plans and to interpret the research studies of market. They provide innovative ideas for branding campaigns and market collaterals.
6. SEO Jobs:
It is the most effective tool to increase traffic and brand awareness.
SEO Specialist:

The framework for keyword research is developed and maintained by SEO specialist.

SEO Manager:

They ensure that on-page, off –page and technical SEO best practices are implemented for which they collaborate with content team. They team up with developers for site architecture and design.
7. Web Development Jobs:
They are the architects & contractors and the job roles are categorized into three areas that are front end, back end & full stack developer.
Front End Web Developers:

They identify the issues which are experienced by the users and provide codified solutions.

Back End Web Developers:

As per the requirements specified by the internal business stakeholder they architect the technology.
8. Marketing Analytics Jobs:
They manage, measure & analyze market performance to increase its effectiveness and to generate higher Return On Investment.
Marketing Analyst:

They are responsible for designing, conducting and interpreting the outcomes of in-market tests. Data tracking strategies and implementation parameters are also produced by them.
9. Ecommerce Jobs:
Ecommerce is the online platform where the goods are bought and sold over the internet.
Ecommerce Manager:

They identify, negotiate & manage contractors and vendors related to project. They lead and manage existing teams. Also whenever necessary they implement staff growth.
10. Business Development:
They generate the demand by attracting the interest of the potential customers towards their business products or services.
Business Development Manager:

Channel budgets are planned and managed by them. They keep a track on the channel's performance and generate weekly, monthly & daily report.
---
Summary:
---
We tried to capture almost all the roles but of course there is much more. As we have witnessed that digital marketing field is huge which eventually benefits people by providing more opportunities. But, if you look at the above job descriptions you will find that many of them share the similar skill sets hence you get the flexibility of moving from one role to another which will only make you more & more employable.
All the best to Choose the best!!!
---
Recommended Training Program
---